Welcome to Soundriding.com
Audio communications for trainers and riders (established 2005)

Soundriding products are used by some of the leading equestrian teams, trainers and riders in the world, including Conrad Schumacher, Carl Hester, Olympic gold medallist 2012 and Rob Hoekstra, Performance Manager for Olympic 2012 gold medal winning British Showjumping Team.
Whether you need to communicate with large groups at a pony club rally or talk to one rider during a training session, Soundriding can supply your audio needs with easy to use products that range from wireless radio mics to PA systems.
Below are some of the top trainer and riders who use our top selling one-way and two-way Personal Trainer System.


.
"I've been using the Personal Trainer System from Soundriding for my training clinics and it really does make a difference to the level of communication between trainer and rider. The System allows the rider to remain relaxed during the lesson, hearing clearly and precisely detailed instruction, wherever they are in the arena."

"I would certainly recommend the Personal Trainer as an invaluable training aid."
Conrad Schumacher (International Dressage Trainer)



NEW One way 40 Channel Personal Trainer Radio Mic System

Want to give your pupils the competitive edge and prevent yourself going hoarse in the process? The NEW Personal Trainer One Way Radio Mic System enables you to communicate directly with a student from the sidelines, or in the saddle, and is used by top riders, trainers and international teams.
.

System (shown above) includes transmitter, lapel microphone, receiver, earpiece, 2 AA alkaline batteries and kit bag. The new 40 Channel Personal Trainer One Way Radio Mic System costs £199.00 including free insured courier delivery (Mon-Fri, UK only). We believe this is the best price and value in the UK for the system offered (includes 3 year guarantee). Please note prices shown are for payment by debit card. Credit cards will incur an extra charge.
.
.

*3 year guarantee

* Replaceable AA batteries. Lasts approximately 15 hrs with 2 high quality alkaline batteries.
* 70m range (often further, depending on environment)
* Transmitter has built in microphone in addition to supplied lapel mic
* Transmitter mute button

* Study metal clip on transmitter and receiver for attaching to clothing
* Trainer can talk to rider while playing music in background at same time (ideal for dressage)
* Free Mon-Fri (UK only) insured courier delivery by 1pm
.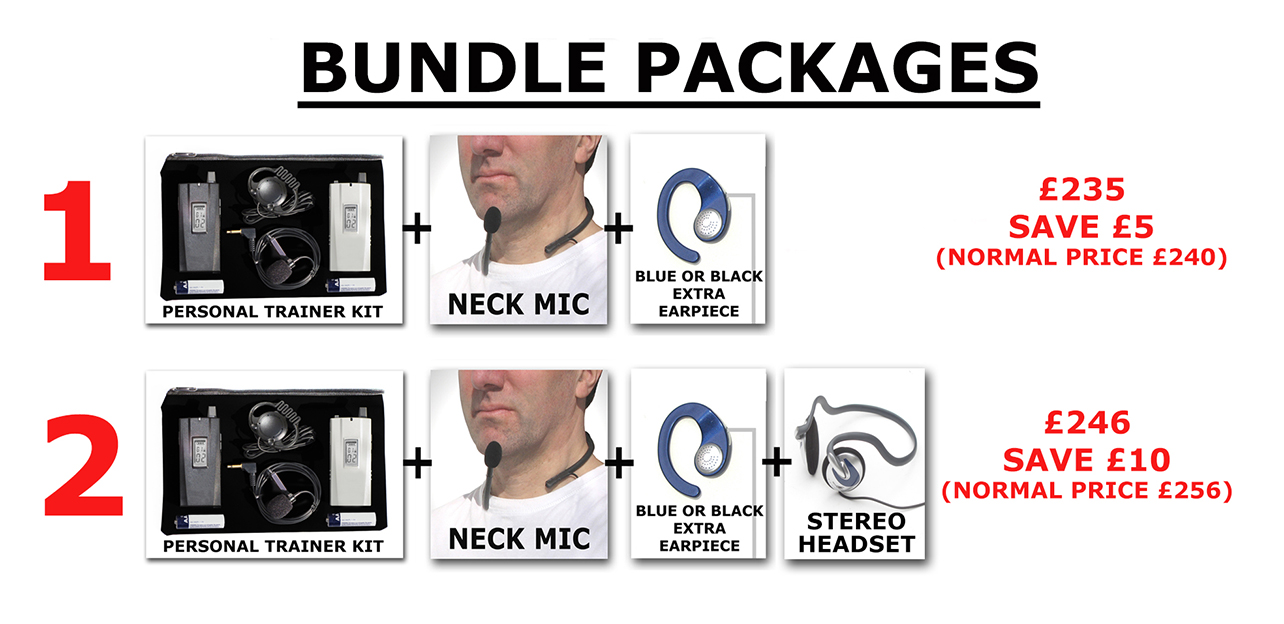 For group work, up to 12 receivers can be linked to one transmitter. Please ring for further information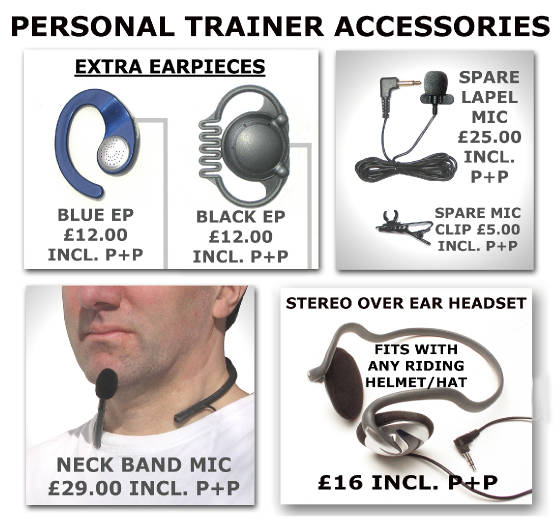 .
Call us today:

Tel: (UK) 01293 421886